Join over 2,000 families in 35+ countries
around the world learning with the
Your Natural Learner curriculums.
How is Your Natural Learner Curriculum designed?
I often say that I should create a sped-up time lapse video of my workspace during a curriculum creation time, because wow-oh-wow would it be intense to watch! Any family that is already using this curriculum knows just how in-depth and incredible the activities flow together, not just within each curriculum, but from one grade to the next. I can't tell you how many times a family has come to me with the question "How will I know my child is learning anything if there aren't worksheets and tests?" and then come back to me at the completion of a year exclaiming the "magic" of this curriculum and all of the wonderful things that their child has discovered on their journey.
So, how does that magic come to fruition?
Easy. Every curriculum begins with the child.
Unlike most programs that begin with skills or assessments, Your Natural Learner curriculums begin with the understanding of the unique comprehensive development that is happening for the children at that age level. I research and dig into all areas of development – What is happening in the physical development at this age? What is happening with their social and emotional development right now? How are they most likely sharing information, what are they curious about, and what is happening in the world around them? I begin with that foundation to set the tone for a year of enjoyment, child-led learning, and joyful experiences that ALSO provide intense learning opportunities.
Next, I look at the necessary skills and content that children at that age/grade level need. Not only does this help you ensure that your child is learning all of the basics and then some, but if you live in a state or region where you are required to submit your learning materials as a homeschooling family, you can be confident that all of the regulations and standards will be met with just this curriculum. Every grade level covers literacy, mathematics, science, art/creativity, nature studies, and social connections (with sensory play added in the Pre-K/K level).
Then the creative work begins (this is when the time lapse video would be hilarious to watch – SO MANY BOOKS and post-its and notebooks….). I carefully and creatively blend the developmental needs, the necessary skills and content, with meaningful literature and activities that allow your child to learn in a flexible, open-ended, and child-led way without the stress and repetition of worksheets, textbooks, tests, etc. Naturally, this is the longest phase of the operation, as I construct meaning out of the notes and ideas and put the curriculum together, with key learning and planning, along with helpful assessment and observation notes for parents. My goal in all of this is to create a flexible, one-stop-shop for natural, child-led learning experiences that are easy to put together for you and full of excitement and meaningful learning for your child. We're looking for a win win win here! And as one parent recently described, "I've finally found a curriculum that doesn't just TALK about good philosophy, but actually EMBRACES it."
Boom.
Win win win achieved.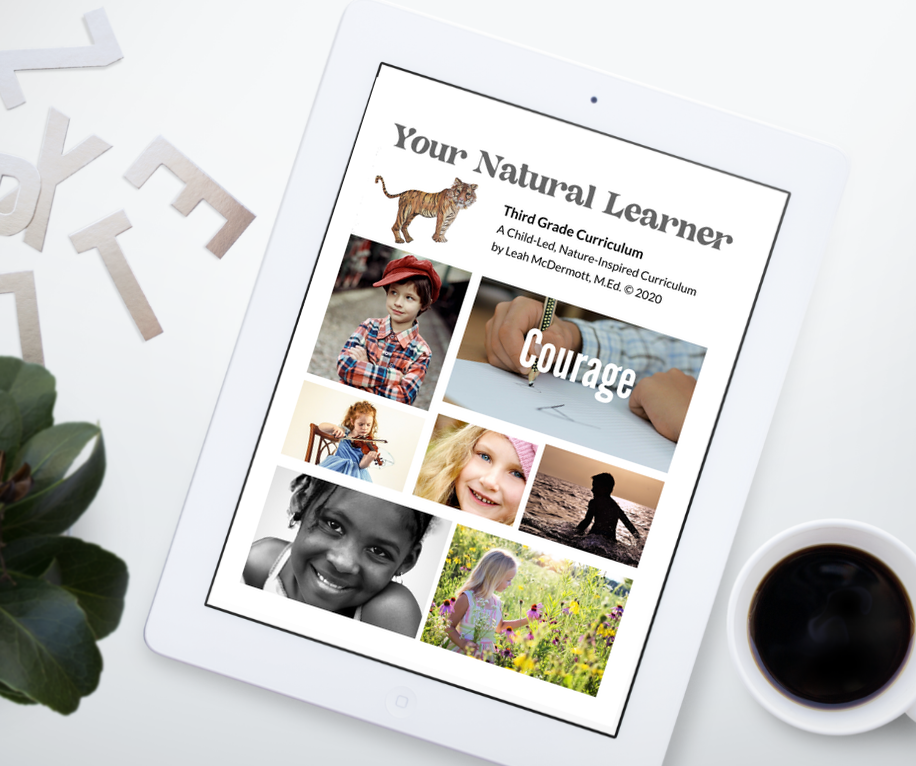 "This curriculum is beyond amazing. I recently opened my own private school and I only wish I had bought it earlier. It makes lesson planning so easy. I just pick which activities I want to do with the kids that week and plug them into our plans. I love how things are themed but so interconnected with academic learning.
For example, Leah's first theme is the Human Body. She makes sure to organize to curriculum so that everything relates back to that. Even when you get to the Nature Adventures section, she has the kids doing things like measuring your own wingspan. As a former public school teacher, I really love how she makes sure everything is fun, engaging, and hands on! Thank you, Leah! I am so glad I purchased both the 1st grade and the Kindergarten ones you offer!"
Private School Owner and Mother
Still wondering what this curriculum has to offer?
You want your children to follow their interests, you want them to get outside every day, and you also want to make sure that your children are learning!

You've searched for the right curriculum for what feels like forever, and everything you find either has your child filling out workbooks or reciting things over and over again like a little robot. Yuck!
All you want is something that lets your curious explorer follow their heart and fill their heads with joyful knowledge about the world around them. Oh.. and something that doesn't require a lot of resources other than meaningful literature, Mother Nature, and easy-to-find ingredients.... and objects around your home!
Everything You Need, Right at Home – A simple supply list makes it easy for you to create and set up any of the activities from the curriculum with great ease! No special orders or additional supplies needed!

Help Your Child Connect to the World -Through literature, personal connections, and fun activities, your child will understand their place in the world around them, connecting to others and, ultimately, themselves.
Develop Your Child's Unique Creativity -With themes that focus on helping your child understand their uniqueness, they will embrace their creative selves and develop a personal sense of curiosity, creativity, and joy!
Support and Inspiration – All purchases come with access to our Facebook support group, where you, me, and lots of other families provide inspiration to follow your child's lead, encourage their own interests, and feel confident that you're teaching them meaningful material!
Professionally Designed – With two Masters of Education in Reading and Curriculum Writing, dual teaching certifications, educator awards, and (most importantly) being a homeschooling mom of a two, this curriculum is designed by an author with the most specific professional and personal qualifications!
Accessible Downloads This digital curriculum will be available for download as soon as you complete your purchase! No waiting for the mail- you'll have everything you need within minutes. The curriculum is broken down by individual themes inside the seasonal folders, making it easy and quick to access exactly the section that you are looking for!
If this is you ... Your Natural Learner is just for you & your child!
"This curriculum has everything I was looking for: natural learning based, divided into units, all hands on (no boring worksheets or workbooks!), encourages a child's natural curiosity and desire to learn, and covers all the subject areas!

As a former kindergarten teacher who has seen first hand the detrimental effects of mainstream, public schooling I was determined to choose a different way of schooling for my child. I was not comfortable enough to go full on "unschooling" but this curriculum is a great compromise between the two extremes! It meets my needs for "structure" and having specific things to cover, but also meets her needs for engaging, hands on, real life learning. I can't recommend this program, and all that it comes with, enough!"
Doula, Former Teacher, Homeschooling Mom
Amazing "How To" Guide Included
You don't just get access to this amazing curriculum – I also hook you up with a fantastic guide all about setting up your learning environment, engaging with your child, getting the most out of your nature exploration, extolling the benefits of natural and child-led learning for children, learning when to lead yourself and when to let the child lead, a sample calendar for using the curriculum, and so much more!

Homeschooling for humans.
Disclaimer: Due to the unreturnable nature of digital content, no refunds will be accepted for this curriculum for any reason.
This content is NOT eligible for resale.
Your Natural Learner Copyright © 2020. All rights reserved.